Historically, the company has offered the application as a backup to full suite security products like Avast Free Antivirus. Avast works closely with Microsoft as a top partner in the Microsoft Virus Initiative (MVI), with both companies collaborating to test each other's anti-malware tools.
If you have an antivirus product installed, Windows Defender switches to standby mode while your primary tool gets the job done. Otherwise, without a recognized antivirus program, Windows Defender steps up and assumes the role of primary security application. Without question, Windows users have always needed an application to protect against computer viruses, spyware, and other malware.
It's not that Windows is especially prone to viruses or that Windows is an unsecured operating system. Microsoft has done an excellent job of locking it down, reducing the attack surface — the total amount of attack vectors, or opportunities — and responding quickly to serious security breaches. Windows is the target of malware writers because it commands more than 90% of the desktop PC market.
It's like the old saying attributed to bank robber Willie Sutton, who said he robbed banks because that's where the money is. If you want to steal bank login credentials, you go after Windows users.
Is Windows Defender only available on Windows 10?
Under the name Microsoft Defender, the antivirus application is only available on Windows 8, Windows 8.1, and Windows 10 computers.
However, the same software utility has been available for several years. For Windows XP, the software was released as Microsoft Security Essentials. You may also have encountered it under that name in Windows Vista and Windows 7. While the application was not built into those operating systems, it was available as a free download.
The original Windows Defender was an anti-spyware program on Windows XP, Windows Vista, and Windows 7, and Microsoft Security Essentials was created to fill in the gaps. Now, Windows Defender is back as a full-fledged antivirus tool. But is it good enough to protect your PC?
What does Windows Defender do?
The latest version of Windows Defender — the one built into Windows 10 and redubbed Microsoft Defender — is billed as a full antivirus solution. It promises real-time protection and browser integration to protect you from malicious websites. Windows Defender also scans your Outlook mailbox for suspicious attachments.
For a long time, Microsoft Defender was a serious laggard in comparative tests by AV Test, the gold standard in antivirus evaluation. In the past year, when it comes to standard antivirus detection, Microsoft closed the gap with the subscription-based antivirus products.
But the key word is "standard." The primary focus of Defender is computer viruses. While people tend to use the terms "malware" and "viruses" interchangeably, they are not the same. Malware refers to all malicious software, and viruses are just one type. For example, ransomware is also a form of malware, but it is not a virus.
In addition to malware, there are other issues to watch out for online — such as phishing scams, Wi-Fi sniffing, and fraud — which fall under the larger category of threats.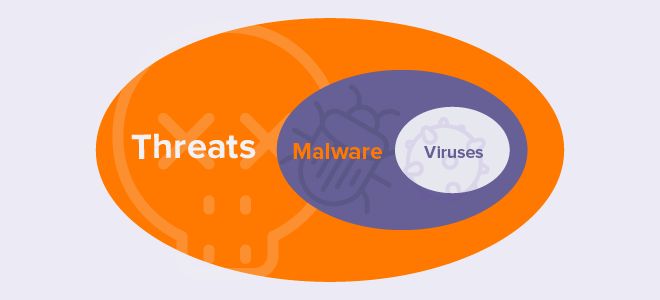 How strong is Windows Defender?
Windows Defender has come a long way over the years, but it's still struggling to redeem itself against the dubious reputation it's earned through years of subpar protection and performance. Now, Windows Defender test results have improved in many independent antivirus tests — including strong scores in Protection, Performance, and Usability in AV Test's latest round of evaluations.
Given scores like these, you might be wondering just what it is that's continuing to hold Windows Defender back. Sometimes, it seems like Microsoft's worst enemy is itself — more than once over recent years, Windows updates have caused severe bugs that have hampered Microsoft Defender's ability to protect its users.
If something like this happens again, you'll want a more reliable antivirus solution — one that isn't as dependent on Microsoft's software and quality controls to keep you safe. The good news is that there are plenty of free antivirus options out there: when comparing Windows Defender vs. Avast, Windows Defender vs. Bitdefender, or Windows Defender vs. AVG, the third-party solution often comes out on top.
What is Windows Defender lacking?
Though Windows Defender has improved its performance in recent years, it's not without limitations.
Reliable accuracy
In many security and performance reviews, Windows Defender test results return many more false positives than leading third-party alternatives. This means that it's more likely to mistakenly identify a safe program or file as malicious. You'll need to whitelist that bit of software so that Windows Defender realizes it's safe.
Offline performance
It also can fail to detect a lot more malware than its competitors, especially when it's disconnected from its cloud database. Malware detection and prevention are two different things: detection is what identifies a file as malicious, and prevention stops it from affecting your computer. Malware detection is important because it can prevent you from inadvertently passing malicious files onto your contacts, even if they don't execute on your device.
An AV-Comparatives test from September 2019 found that while offline, Windows Defender detected only 29.7% of malware samples. And it missed over 20% of the malware in the test while connected. But fortunately, in the same test, it prevented 99.96% of the malware from affecting the test computers.
Still, strong malware detection is a crucial element of strong and comprehensive computer security. Windows Defender can also struggle to keep up with third-party tools in detecting phishing attacks, according to PCMag.
Global alerts
Windows Defender also lacks a centralized logging and alerting system. It'll inform you about malware events on your computer, but you can't get an idea of the bigger global picture. If there's a new strain of malware sweeping the globe, Windows Defender won't tell you about it until it reaches your machine.
This means that people are not always aware of new threats or protected against them.
Limited anti-malware capabilities 
Windows Defender targets only viruses while also providing some web browser and email protection. The built-in software doesn't catch other threats such as ransomware, nor does it catch all browser exploits. In short, it's good for one form of malware, but leaves users vulnerable to many others. 
Another downside is you have to use Windows Update to manually download new definitions — database entries of new viruses so that Windows Defender can detect them. All of the major antivirus programs automatically update themselves in the background, usually multiple times a day, protecting you against new threats as they emerge.
These limitations aside, Windows Defender's malware prevention capabilities are comparable to those of its competitors. You'll be significantly safer with it than without it on your side.
Windows Defender vs. Avast Free Antivirus
So how does Windows Defender compare against Avast Free Antivirus? Windows Defender handles the basics pretty well. It runs various types of scans, checks file downloads, and comes with a firewall. It also allows you to protect chosen folders from ransomware attacks — a feature offered at a premium by some third-party antivirus providers.
Meanwhile, Avast Free Antivirus has a wide range of advanced security features that combine for 360-degree protection, including:
Wi-Fi Inspector monitors your home network for any vulnerable devices.

AutoSandbox executes files in isolation for 15 seconds to make sure they're safe.

CyberCapture forwards downloaded files to Avast for detailed threat analysis.

Behavioral Shield watches your software for any signs of a malware infection.

Web Shield and Mail Shield protect you against threats in your network traffic or inbox.
In recent tests conducted by AV-Comparatives, Windows Defender detected 99.5% of known malware and 96.3% of the zero-day malware. Avast Antivirus detected 100% of both zero-day and known malware. In this Windows Defender vs. Avast matchup, it's Avast that'll keep you safer.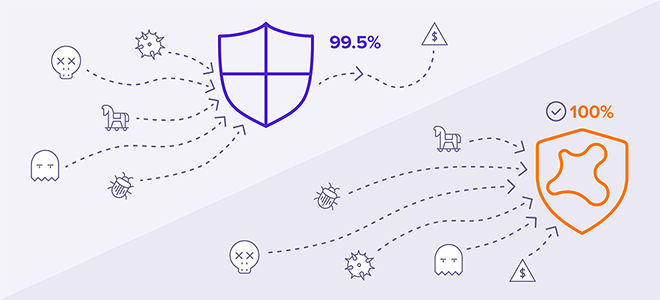 Avast is also less demanding on your computer's resources, according to AV-Comparatives. Avast had significantly less impact on system performance than did Windows Defender. No one wants an antivirus program slowing down their system.
Avast Free Antivirus is the ultimate way to detect malware and other threats on a Windows system.
So, is Windows Defender really good enough?
Windows Defender is good enough if you use the internet minimally, and if you rely only on Windows' own tools. (Occasionally, malware is passed along via a USB drive, but the vast majority of infections come from internet activity.)
Windows Defender is also good enough to serve as a backup should your antivirus subscription run out and you are unable to renew. That is Windows Defender's role: It's a backup in lieu of a proper antivirus product.
For more extensive browsing, especially if it reveals your sensitive personal data like online shopping or banking, you should rely on a third-party antivirus to provide more extensive protection. Remember, viruses aren't the only thing to watch out for — different malware strains, phishing scams, and other threats can compromise your privacy and security.
Pair Windows Defender with the ultimate third-party antivirus
It's good to know Microsoft has your back, but Windows Defender should always remain a secondary option. It's there if you need it, but only as a temporary stopgap. Avast Free Antivirus has a much bigger and broader threat-detection network, protecting you against a wider variety of threats than Windows Defender.
With Avast Free Antivirus, you're covered against the full spectrum of malware along with many of the most common infection vectors — Wi-Fi vulnerabilities, misbehaving or out-of-date software, phishing attacks, and more. These are just some of the many ways Avast protects the privacy and security of over 400 million people around the world.