A lot of folks out there use the terms "virus" and "malware" interchangeably, but they're not 100% the same idea. Viruses are just one type of malware, and while there's plenty of Android malware out there, there aren't any viruses in this sense. So if you're wondering how to remove viruses from your Android phone, you'd best switch over to "malware."
With that out of the way, let's get that malware off your phone. Below, we list several of the most reliable Android malware removal methods, starting with the simplest: let your antivirus software do it for you.
Option 1: Automatically remove the malware
Install Avast Mobile Security for Android and quickly scan your device to determine whether or not a "virus" is present.
Step 1 – Run your antivirus scan
Most mobile antivirus programs are pretty straightforward to use. Just tap the "scan" button and let the app get to work.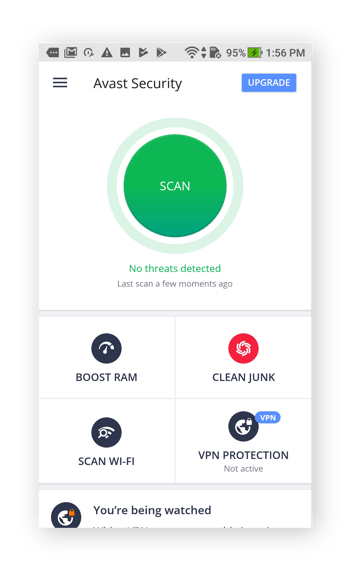 Step 2 – Resolve identified issues
Once you've completed your scan, follow the prompts within the user interface to clear up any risks that may have been uncovered.
Option 2: Manually remove the malware
If you aren't using any mobile security programs, or if your chosen app wasn't able to resolve the issue, you can look into how to remove the malware from your Android phone manually.
Step 1 – Put your phone into Safe Mode
Restarting your phone in safe mode prevents all third-party apps from running, including malware. Some Android phones will let you reboot in safe mode, while others need a few extra steps to get there.
On many devices, you can access safe mode by holding down the power button as though you were planning to turn your phone off.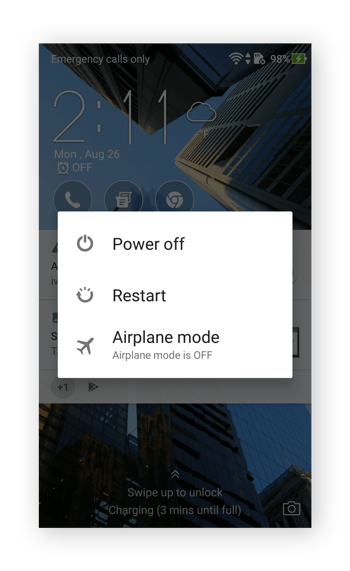 Long-press the Power off option for a second or two.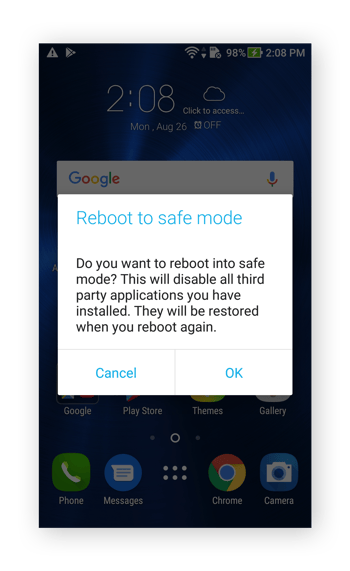 Tap OK when asked if you'd like to reboot into safe mode.
Once you've entered safe mode, assess whether or not the issues are still present. If not, it's likely that they were caused by malware in a third-party app.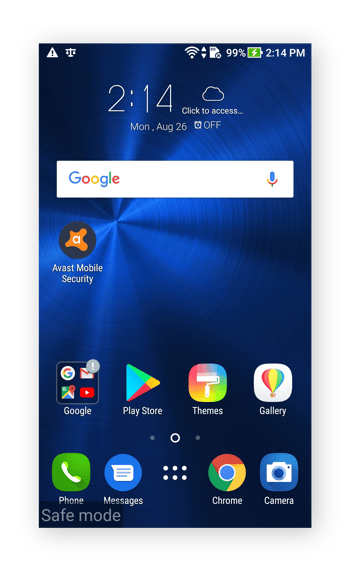 Step 2 – View your downloaded apps
Once you're in safe mode, go to Settings > Apps. Look for any apps that seem suspicious—maybe an app that you're not very familiar with, or one you don't recall installing yourself. The best place to start is with the apps that were installed immediately before your phone began acting strangely.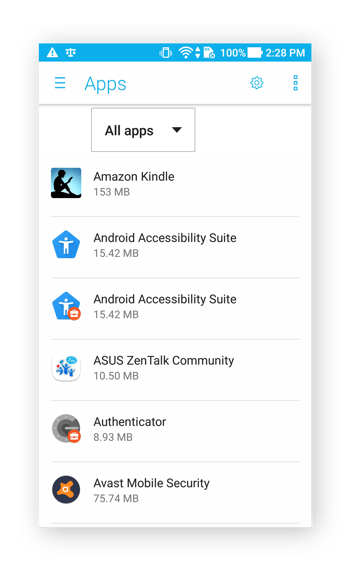 Step 3 – Uninstall recent downloads
Once you've identified a potentially troublesome app, tap Uninstall to delete it for good. In the event that you've guessed incorrectly, you can always reinstall it later. In a last-ditch effort for survival, many virus-ridden apps will disable the Uninstall button, in which case you'll want to remove their administrative privileges.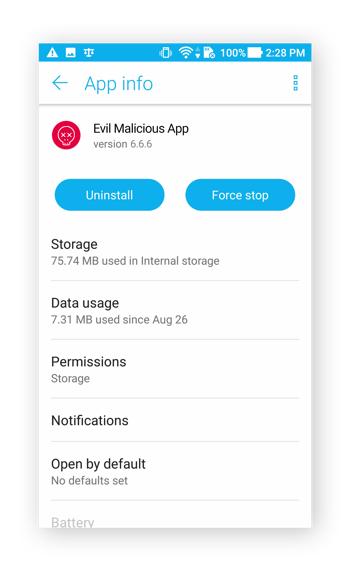 Step 4 – Prevent these apps from being device administrators
Navigate through your security settings to find a list of apps with device administrator permissions. Depending on your Android version or phone manufacturer, your path may look something like this: Settings > Security > Device Administrators. Once there, see if the troublemaker app is featured on the list. If you see it, take a look at the little box to the right of its name, and note whether or not it's checked.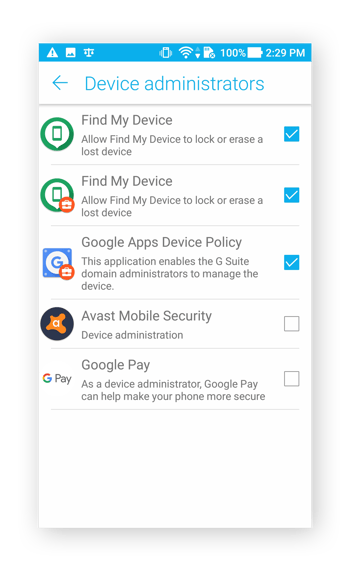 If it is, uncheck the box, then select Deactivate this device administrator to remove its access privileges. Now, return to the app in Downloaded Apps. The Uninstall button should be tappable now, so go ahead and send that app packing.
As a final step, head to your Downloads folder and delete the malware's .apk installation file, if you see it.
Restart your phone in normal operations mode, and confirm that you've resolved your symptoms. If so, congrats! You've mastered how to remove malware from your Android phone. If not, you may need to repeat this process, this time uninstalling a different app, or consider a full factory reset.
Remember that performing a factory reset deletes all apps and app data from your phone, so it's always a good idea to set up periodic data backups.
Option 3: Reset your Android phone
If the above methods have failed to resolve your issue, you may reset your phone back to its original factory settings. Here's how you do it:
Step 1 – Perform a Factory Data Reset
Navigate to Settings > Backup & Reset> Factory Data Reset.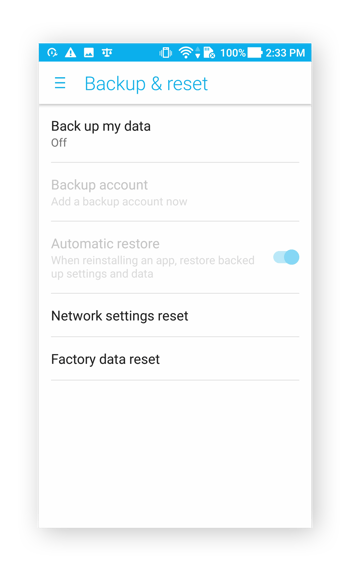 Now tap Reset device.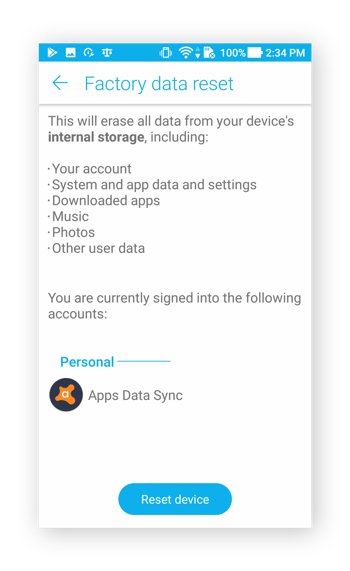 Step 2 – Enter your passcode when requested
Enter your passcode to continue, then tap Erase everything. In the screenshot below, the user is asked to enter a generic access code, because there is no password enabled on this example device (you should always password-protect your personal mobile, though!).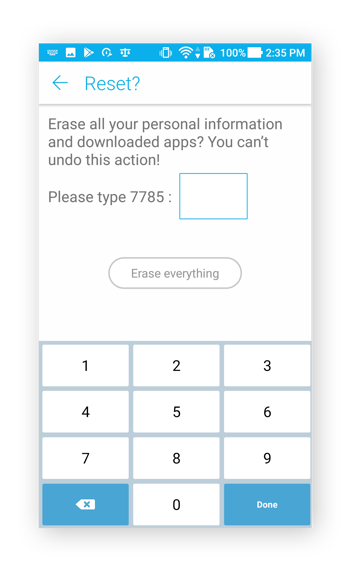 Step 3 – Reboot your device
After the factory reset is complete, your phone will restart and take you through its initial setup procedures.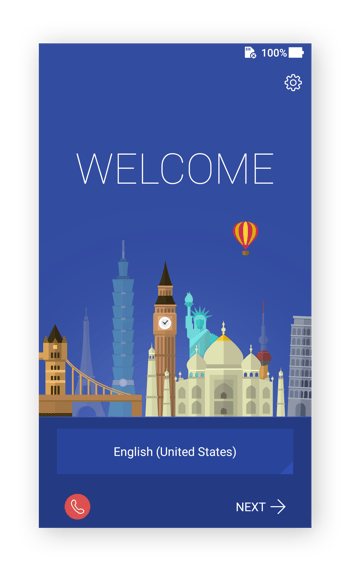 Step 4 – Restore from a previous backup
Eventually, you'll be asked whether you'd like to restore your phone from a backup, or start over. Here, you can elect to restore your phone from a backup that dates back to before you'd installed the malicious app.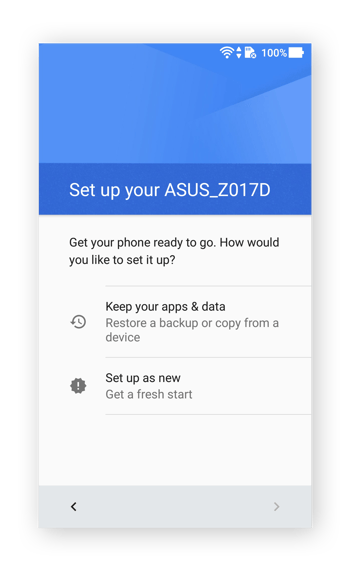 The first phone malware
Before smartphones became the ubiquitous companions they are today, the cell phone virus was considered somewhat of a myth. "Computers could get viruses, but smartphones were immune," went the prevailing wisdom of the day. This illusion of safety was shattered in 2004 after hacker group 29A created the Cabir mobile phone worm and sent it as a proof of concept to several professional cybersecurity labs.
When installed, Cabir — a network worm — would display the word "Caribe" on the screen of infected devices while seeking to infect others via active Bluetooth connections. As a proof of concept, Cabir didn't cause any direct damage, but the message was clear: phones can get malware too.
In Cabir's wake, numerous malicious actors took advantage of the new opportunities for mayhem and personal gain, creating their own malware with serious potential for harm. Some of these include:
SymOS/Kiazha.A: a ransomware Trojan that targeted Symbian OS and deleted incoming and outgoing SMS messages.

CommWarrior: a worm that resets the phone on the 14th of every month. Skull imagery installs as a theme package, but the file goes on to disable programs and applications. It also turns all the icons on the phone into Jolly Roger or jigsaw images.
Many malware threats have emerged since smartphones have grown in popularity, and more continue to surface every day. Cybercriminals are constantly innovating new methods to trick users into installing their malware. Take an active role in your digital security by learning more about how these threats work, and what you can do to protect against them.
Types of phone malware
Android malware comes in many varieties, each with its own quirks and preferred entry vectors. Here are some of the most common types of Android malware:
Spyware
This type of malware is designed to stealthily glean information from your phone and transmit it back to the hacker. Cybercriminals disguise their spyware as legit applications, which is how they attempt to trick you into installing it. Once installed, the spyware records information including SMS/text messages, URLs browsed, app activity, keyboard inputs, usernames and passwords.
Ransomware
As the name implies, ransomware blocks access to your device or your data, holding it hostage in exchange for a hefty fee. Though the temptation to liberate your device and files is understandable, you should never pay a ransomware cybercriminal. Instead, try and remove the malware from your device and then restore an earlier backup.
Worms
These are the most aggressive type of Android malware. Designed to endlessly replicate and spread, worms are autonomous and can operate without any user interaction. They generally arrive via SMS, MMS, or other digital media.
Trojans
Trojans act as legitimate applications and infect your phone once the app has been installed. Unlike worms, Trojans need a user to install them before they can carry out their actions. Once activated, Trojans can install additional malware, deactivate other applications, record your personal data, or lock up your phone for a certain period of time.
Android vs. iPhone infections
Androids and iPhones have different and distinct vulnerabilities to malware. While iOS was long considered immune to malware, recent attacks have proved that this illusion of invulnerability isn't what it used to be. Android users are more likely than their iOS counterparts to contract malware simply because there are multiple places for them to find Android apps. Some of these portals are secure, but others are not.
iOS users mostly download apps from Apple's official App Store, which uses some of the most robust security measures in existence. Apps on iOS cell phones and tablets are sandboxed, which means that their ability to interact with other applications or with iOS itself is limited. Android apps are also sandboxed, but to a lesser extent.
Powering devices made by Samsung, Huawei, and Google itself, Android reigns as the world's most popular mobile phone operating system. This massive user base means that it struggles with updating everyone to the latest secure version of its operating system. This affords hackers more time to hone their methods and affect more Android users.
Where Android malware comes from
When you familiarize yourself with where Android malware commonly comes from, you're one step closer to keeping it off your mobile device.
Infected applications
Hackers repackage popular apps with malware, then distribute the poisoned versions through various app stores and download portals. This technique is so successful, cybercriminals will often create brand-new apps specifically to trick users into installing them. The user believes that they've found an exciting new app, but instead, they're getting an Android malware download.
Malvertisements
Malvertising is the practice of inserting malware in ads that are distributed through ad networks. Clicking on one of these ads can trigger a virus download to your device. Also be on the lookout for virus pop-ups on Android devices, as many of these ads may appear in pop-up windows.
Scams
This category includes phishing and other popular email or SMS-based methods. You'll be sent a link, but when you click it, the website triggers a malware download to your device. This is one of the most common ways to get an infection on your Android phone.
Direct-to-device downloads
Direct-to-device infections require the hacker to attach a targeted device to another, and manually install the malware to it. This is the stuff of high-profile corporate espionage. Never plug your phone into an untrusted computer, and never connect unknown accessories to your devices.
How can you tell if your phone has malware?
It's not always easy to recognize the signs, but you can learn how to detect malware on your Android phone. Assuming you've been following along until now, you're already an expert on how to check your phone for malware: you can perform a scan with your preferred mobile security app, or investigate recently downloaded apps while in safe mode.
Now that you know what to do when you find one, here are some of the more reliable symptoms that might get you asking, "Does my phone have a virus?"
Apps that crash…a lot
Some apps tend to crash from time to time, and as you use them, you'll get a feel for what constitutes normal behavior for a particular app. If you find multiple apps crashing more frequently than they should, you might be dealing with Android malware.
Unexplained increases in data usage
It's one thing to discover that you're short on data after binge-watching the latest season of your favorite show. But if the same thing happens while your phone is hanging out in your pocket all day, you could have reason to worry. Some malware will chew through your mobile data as it operates, and so it's a good idea to check in on your data allotment from time to time.
Ads keep popping up
You can block annoying pop-up ads with certain mobile browsers or browser extensions. If you start seeing pop-ups even when you aren't running any apps, it's likely that you've got an adware infection on your hands.
Battery drains in no time at all
Since most mobile malware isn't optimized, it tends to drain your battery faster than other legitimate apps.
Your phone bill is through the roof
Similar to a sudden bump in data usage, an unexpected and unexplainable increase on your phone bill is a perfect Android malware warning. It's always helpful to discuss unusually high billing amounts with your mobile service provider.
Unfamiliar apps
Many people don't take the time to check whether or not that trendy new app has been created by a legitimate developer, especially when it comes to the massive range of free-to-play games out there. This oversight can prove costly, as you might inadvertently give a fake app the keys to your phone kingdom.
Phone starts overheating
There are plenty of reasons for why your phone might overheat, but a malware infection is one of the most common causes. If you aren't doing anything abnormal with your phone, it shouldn't be hot to the touch.
Tips for running antivirus on Android
What exactly makes an antivirus app trustworthy? What makes one antivirus app better than another? Other than Android malware scans, which additional features are worth paying for?
Start with the source
Download your chosen antivirus app from Google Play. If downloading from the manufacturer, the link you tap should bring you to Google Play, from which you'll download the app.
The existence of malware-laden security apps is an unfortunate reality. On multiple occasions, hackers have used both fake pages and social media to promote malware disguised as antivirus apps. This makes it critical to …
Do your homework
Even among trusted antivirus solutions, you'll find a multitude of options claiming to be the best. Many of them will advertise a free version to get you started.
To thin the herd, spend some time with third-party labs like AV-TEST and AV-Comparatives. These organizations independently test antivirus apps and publicly post the results to help consumers make informed decisions about which product to try. Avast Mobile Security for Android consistently ranks as one of the top-rated mobile antivirus solutions.
Choose between a paid and free version
In most circumstances, a reputable antivirus developer's free version will suffice. Avast Mobile Security for Android, for example, will protect against viruses, malware, and spyware. It will also scan apps to sniff out Trojans and other infections. As a general rule, you shouldn't have to pay a premium to be protected against cyberthreats.
Avast's free antivirus app supports additional features including RAM optimization, anti-theft (which includes the ability to locate and remotely lock a lost or stolen phone), junk removal, download and upload speed checks, and real-time protection while browsing the web.
The benefits of purchasing a paid version vary between developers. Premium functions might include PIN or fingerprint access to chosen sensitive applications, or VPN services that safeguard your device while connected to public Wi-Fi. If you're only interested in how to check for malware on Android, your mileage on these additional features may vary, though higher levels of mobile security are never a bad thing.
For the majority of mobile users, a robust, free antivirus app should do the trick. Go with one that automatically updates its virus definitions to remain protected against the latest threats.
Keep your Android device protected
Ready to improve your mobile security habits and practices? Without fail, the single most impactful change you can make is to install and use a proven mobile antivirus tool. After all, you'll never need to worry about removing malware if it can't make its way onto your phone in the first place.
With over 100 million installs, Avast Mobile Security for Android is the leading free mobile antivirus tool. Stay protected from threats online with comprehensive, adaptive security that detects and blocks malware before it has a chance to infect your device. World-class mobile security, absolutely free.