While the two terms are often seen as synonymous, there is actually a fair bit of difference between "malware" and "virus". Malware is a catch-all term for many types of malicious software, of which viruses are just one example. Worms are another type of malware designed for mass infection, but there's one key distinction between worms and viruses: worms are self-sufficient, whereas viruses rely on host software in order to facilitate replication. These days, hackers use a variety of malware paired with social engineering tricks to attack victims via their computers and mobile devices.
If your iPhone is acting strangely, it's more likely due to a wonky app than to the presence of malware. Before utilizing the virus removal strategies in this article, check your apps to make sure everything is working as it should. The exception to this is if you've jailbroken your phone — a jailbroken iPhone can be just as vulnerable to malware as Android devices are.
Can iPhones get viruses?
They cannot, because iOS viruses are still theoretical. Compared to Macs and PCs, or even Android devices, malware in general on iPhones is very rare. Hackers are always working hard to improve their tools and techniques, and while there may not be much widely-known malware on iPhones at the moment, things may change in the future.
Before smartphones came along, malware was mostly a computer problem, but out of necessity rather than choice. Now that smartphone use is commonplace, hackers have been hard at work crafting all sorts of malware for mobile devices.
As briefly mentioned above, jailbroken phones are at a much greater risk of malware infection than stock devices. When you jailbreak your phone, you bypass the manufacturer's built-in restrictions that would otherwise prevent you from installing unapproved apps and other software.
Many users prefer the enhanced freedom and flexibility of a jailbroken device, but because jailbreaking subverts your phone's security measures, it leaves you vulnerable to data theft and malware infection. If you decide to jailbreak your device, make sure to thoroughly vet any apps before installing them. Otherwise, you're leaving the door wide open to malware.
Can my iPad get a virus?
Since iPhones and iPads both run the same Apple operating system, they're both at risk from the same threats — which, at present, don't include viruses. Anything that can affect an iPhone can also affect an iPad, and vice versa.
If you do run into a problem someday with your iPad, the silver lining here is that the process of removing a virus from an iPad will largely be the same as when doing so with an iPhone. As you learn how to cure your iPhone, you'll also learn how to clear viruses from your iPad as well.
Where do viruses come from on iOS?
While there's no such thing as an iPhone virus, that doesn't mean you don't have to worry about any issues at all. From time to time, threats can and do slip through, especially if you're running a jailbroken device. Since jailbreaking an iPhone removes a lot of its anti-malware safeguards, you'll need to be extremely careful when it comes to sourcing your apps.
Wi-Fi connections with weak security are another potential vulnerability. If you're using one of these — on an unsecured public Wi-Fi network, for example — safeguard your device by connecting through a VPN. Avast SecureLine VPN encrypts all the traffic coming to and from your device, preventing hackers from snooping on your online activity and personal data, including your passwords and credit card info. That's why a VPN is the quickest and easiest way to turn an unsafe public Wi-Fi connection into a protected one.
How can I tell if my iPhone has been infected?
How do I know if my iPhone has a virus? It's simple: your iPhone doesn't have a virus, because iPhone viruses don't exist. But in the event that you've jailbroken your phone, here's how to check an iPhone for malware.
 Apps begin crashing unexpectedly: Lots of malware, on both computers and phones, causes other programs to malfunction. If your apps suddenly begin failing without any apparent cause, it might be time to scan your iPhone for malware.

You're finding strange apps on your phone: Your phone shouldn't be downloading or installing any apps without your consent. If you're finding unknown apps on your phone — apps that you didn't download yourself, and that didn't come pre-installed — it could be a sign that something is awry.

Pop-ups begin appearing in Safari: Apple's Safari browser shouldn't be spamming you with pop-ups when you're trying to use the internet. Should this change, and if you notice a sudden increase in the amount of pop-ups you encounter, you might be dealing with an iPhone Safari issue.

Unexplained charges to your account: As a general rule, you should always monitor your Apple account to ensure you're being billed correctly. Some malware can co-opt your account or financial information for the hacker's benefit. Always be on the lookout for unusual billing expenses on your account.
Many types of malware can cause performance issues, but not all performance issues necessarily indicate the presence of malware. As your device ages, and as you install more apps and store more data on it, you may notice a decrease in speed or battery life.
Before considering any anti-malware countermeasures, try cleaning up your iPhone and restoring its speed. In most cases, this should be enough to get your phone back in tip-top shape.
Your iPhone may still be threatened
By the end of this piece, you'll be an expert on how to remove malware from your iPhone. However, malware is hardly the only danger out there facing iOS users.
Two of the internet's most enduring threats are phishing and its large-scale cousin pharming. Phishing lures in victims with "bait," such as spoofed emails, that tricks victims into revealing their sensitive personal information. Pharming takes it one step deeper by redirecting web users to simulated websites where they enter in personal details.
As the internet evolves, hackers have updated their techniques and continue to use phishing and pharming as viable attack strategies. Many phishers have switched to a mobile-centered approach, targeting users with text messages instead of traditional emails and seeding social media platforms with fake ads.
Meanwhile, owners of fake websites have begun adopting higher-security HTTPS encryption for their scam sites, making them even harder for users to detect. HTTPS phishing has now become so prevalent, the FBI issued a warning in June of 2019 detailing the new threat.
Webcam security is another potential area of risk — now that nearly all laptops and mobile devices are equipped with a user-facing camera, they're a ripe target for attacks. In early 2019, hackers exploited a security flaw in the macOS app for video conferencing platform Zoom to spy on users via their webcams. Apple's own FaceTime service was revealed to contain a bug that could allow a user to secretly access another's microphone and camera, listening to them and watching them without first obtaining consent. The bug has since been fixed.
Safeguard yourself against attacks and exploits like these with Avast Mobile Security for iOS. Avoid phishing scams, enjoy unsecured public Wi-Fi networks worry-free with advanced threat-detection technology, protect your important photos inside the Photo Vault, and lock down your passwords with Identity Protection.
How to remove a virus from an iPhone or iPad
If, even after taking all the appropriate precautions, you've found yourself in need of iPhone malware removal, simply follow the steps outlined below. The techniques we describe are highly recommended methods for resolving issues on your iPhone, but they aren't guaranteed fixes. Instead, defend your iPhone or iPad against threats with strong internet security measures that give you ongoing protection.
1. Restart the device
Restarting your device is an IT trope for a reason — usually, it fixes the problem. After you've done so, try a few of your favorite apps to check whether or not the problem has been fixed.
2. Clear your browsing history and data
If your device is still acting up after you've restarted it, your next step is to clear the history and data from your browser. Since Safari is the stock browser on iOS, we illustrate this process using Safari as an example.
First, navigate to the Settings menu, then select Safari.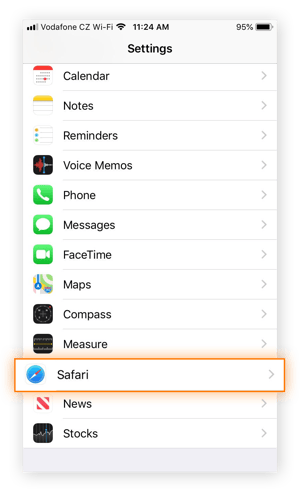 In the Safari menu, select Clear History and Website Data.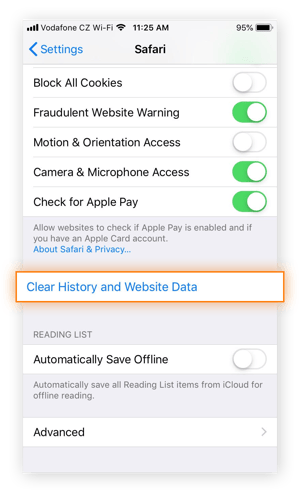 Tap Clear History and Data. That's all there is to it!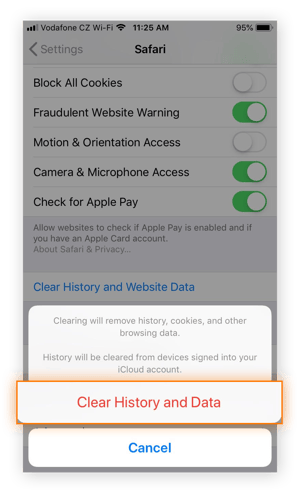 3. Restore your device to a previous iCloud backup
In the event that the above procedure is ineffective, it's time to dive a bit deeper. Assuming you've been using iCloud's backup function, you can restore your device to a previous backup state. Any faulty software should be expunged if you perform these steps.
Navigate to the Settings menu and select General.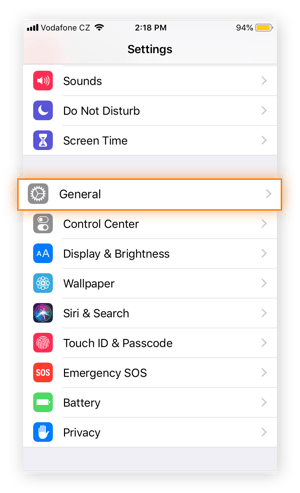 Scroll to the bottom of the General menu and select Reset.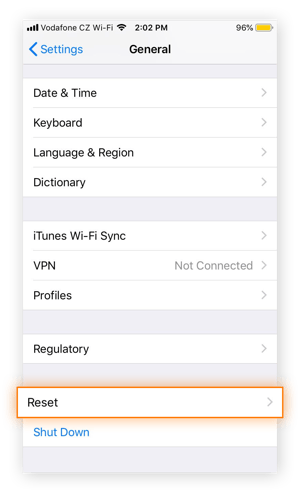 Select Erase All Content and Settings.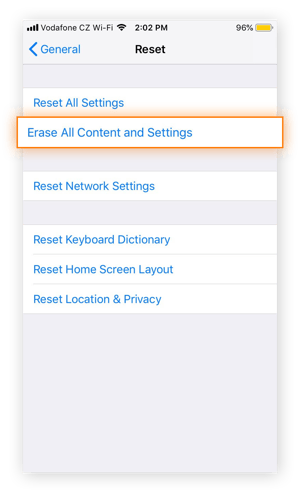 If you'd like to perform a last-minute backup to iCloud before proceeding, select Backup Then Erase. Otherwise, select Erase Now. Follow the subsequent series of prompts and confirmations, entering your passcode as needed, to complete the procedure.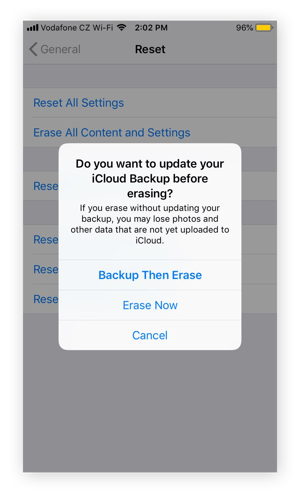 When your iPhone displays the Apps & Data screen, select Restore from iCloud Backup. You'll be prompted to sign into iCloud, and after you do so, you'll be able to select which iCloud backup you'd like to use.
4. Perform a factory reset
Before we go any further, understand that this final step is very much a point of no return. When you perform a factory reset, you restore your device to a like-new state. A factory reset wipes all your content, all your apps, and all of your settings and configurations, then installs the latest version of iOS on your iPhone. There's no going back from here.
Be sure to confirm that your iPhone is incurably afflicted with malware and that the previous techniques were unable to help. The procedure is similar to the previous procedure, except that you won't be electing to Restore from iCloud Backup. Instead, you'll need to continue as though you have a brand-new phone.
Give your iOS device an extra layer of protection
The most reliable defense against threats is not what you do after encountering one, but how you go about defending yourself. When you use a dedicated program like Avast Mobile Security for iOS, you're taking a proactive step towards keeping cybercriminals and their tools out of your iPhone or iPad.
While you're not going to contract a virus on your iPhone, you can still fall victim to phishing attacks and other threats. Avast Mobile Security for iOS scans your device for vulnerabilities, detects phishing links in real time, and also alerts you if you're exposing your data over unsecured Wi-Fi. If a cybercriminal does manage to obtain and leak any of your passwords, we'll alert you to that as well, enabling you to change your passwords and block unwanted access to your accounts.